Climate Science Applications
Master of Science in Integrated Scientific Applications
Climate Science Applications (CSA)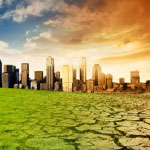 The Climate Science Applications specialization is designed for individuals who want to tackle some of the most complex and pressing problems of our age. To be effective and get things done in today's economic and political arena requires more than knowing climate science. It demands interaction with urban and regional planners, policy- and decision-makers, advocacy groups, geoengineers, federal, state, and city governments, and the public on matters such as climate impacts, mitigation and adaptation strategies, and cost-benefit ratios and risks. The CSA curriculum emphasizes the interpretation and articulation of climate science, prediction, variability, and uncertainty in light of current economic policy, business and government operations, sustainability, and impacts on society, infrastructure, population migrations, and critical resources. Increasing adoption of climate change action plans will require individuals that can place the science within the context of planning, policy, budget constraints, emergency response, and the public domain.
Career Opportunities
Listed below are just a few of the job areas that are relevant to the CSA specialization:
Climate Change Specialist
Climate Change Mitigation Analyst
Climate Risk & Opportunity Analyst
Climate Policy and Law
---
Major Sequence and Degree Requirements
36 Credits (face-to-face, online, and hybrid course delivery formats)
Core Courses (24 credit hours)
Business Operations and Analysis (4)
Essentials of Accounting and Finance (4)
Leadership for Scientists and Strategic Management (4)
Statistical Applications for the Integrative Sciences (3)
Environmental Economics and Policy (3) (Competency in Microeconomics Required)
GIS Applications (3)
Field Experience Practicum (3)
Specialization Courses (12 credit hours, at least 4 courses are required)
Specialization courses include but are not limited to:
Climate Science Applications (3)
Climate Science: Evidence, Consensus, and Uncertainty (3)
Global Markets: Sensitivity and Susceptibility to Weather and Climate (3)
Energy and Climate Policy (3)
Nature & Society in Global Environmental Policy and Negotiations (3)
---
Admission Requirements
Applicants must provide an official transcript from all institutions of higher education attended showing completion of a baccalaureate degree from an accredited institution with a minimum of a 2.75/4.00 cumulative grade point average. Applicants with grade point averages less than 3.00 must also submit an official score from the GRE, GMAT, or MAT test taken within three years of the date of application. An official application form and fee, three professional letters of recommendation, an academic and professional goals statement, and a current resume are also required. Applicants may also be asked to complete a telephone interview with the MSISA program coordinator.
---
Next Steps
For more information on the MSISA program, please contact the program coordinator:
Dr. Rich Clark
Email: Richard.Clark@millersville.edu
Phone: 717-871-7434