Climate Science Applications
Master of Science in Integrated Scientific Applications
Climate Science Applications (CSA)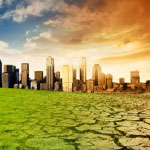 The Climate Science Applications specialization is designed for individuals who want to tackle some of the most complex and pressing problems of our age. To be effective and get things done in today's economic and political arena requires more than knowing climate science. It demands interaction with urban and regional planners, policy- and decision-makers, advocacy groups, geoengineers, federal, state, and city governments, and the public on matters such as climate impacts, mitigation and adaptation strategies, and cost-benefit ratios and risks. The CSA curriculum emphasizes the interpretation and articulation of climate science, prediction, variability, and uncertainty in light of current economic policy, business and government operations, sustainability, and impacts on society, infrastructure, population migrations, and critical resources. Increasing adoption of climate change action plans will require individuals that can place the science within the context of planning, policy, budget constraints, emergency response, and the public domain.
Career Opportunities
Listed below are just a few of the job areas that are relevant to the CSA specialization:
Climate Change Specialist
Climate Change Mitigation Analyst
Climate Risk & Opportunity Analyst
Climate Policy and Law
---
Major Sequence and Degree Requirements
36 Credits (face-to-face, online, and hybrid course delivery formats)
Core Courses (18 credit hours)
Operations Management (3), fully online delivery
Actuarial Financial Mathematics
or
Essentials of Accounting and Finance (3) Shippensburg
Strategy and Policy (3), fully online delivery
Probability and Statistics for Teachers
or
Statistical Methods
or
Statistical Applications for the Integrative Sciences (3)
Environmental Economics and Policy (3) Blended delivery, competency in microeconomics required
Field Experience Practicum (3)
Specialization Courses (18 credit hours, at least 4 courses are required)
Specialization courses include but are not limited to:
Climate Science Applications (3)
Climate Science: Evidence, Consensus, and Uncertainty (3)
Global Markets: Sensitivity and Susceptibility to Weather and Climate (3)
Energy and Climate Policy (3)
Nature & Society in Global Environmental Policy and Negotiations (3)
GIS Applications (3)
Emergency Preparedness for Industry (3) 
or 
Emergency Management Planning (3)
---
Admission Requirements
Applicants must provide an official transcript from all institutions of higher education attended showing completion of a baccalaureate degree from an accredited institution with a minimum of a 2.75/4.00 cumulative grade point average. Applicants with grade point averages less than 3.00 must also submit an official score from the GRE, GMAT, or MAT test taken within three years of the date of application. An official application form and fee, three professional letters of recommendation, an academic and professional goals statement, and a current resume are also required. Applicants may also be asked to complete a telephone interview with the MSISA program coordinator.
---
Next Steps
For more information on the MSISA program, please contact the program coordinator:
Dr. Rich Clark
Email: Richard.Clark@millersville.edu
Phone: 717-871-7434
Course Descriptions

COURSES IN MSISA CORE AND SPECIALIZATION

Operations Management

Examines positioning, design and operating decisions and their interrelationships in the context of the overall competitive strategy of the firm. The international dimensions of operations management, as well as the relationships of operations management to other functional areas are stressed. Topics include operations strategy, quality management, product and service design, process design, capacity planning,

facilities layout, design of work systems, location planning, total quality control, aggregate planning, independent demand inventory system, pushand-pull systems, enterprise resources planning, supply chain management, and scheduling. 3 s.h. Distance-learning format.

Strategic Management and Policy

Capstone seminar in the formulation and administration of organizational planning and policy. The student is expected to utilize, integrate and apply the theories, concepts, principles and techniques relevant to business problems and situations. Uses case studies, course projects, library research, field research, group decision making, role-playing, simulations and other strategic planning and management process exercises. Emphasizes the global nature of business and utilizes technology to coordinate the activities of the group efforts. Prereq: demonstrated proficiency in general business concepts at the introductory level through job experiences or coursework. 3 s.h. Distance-learning format.

Environmental Earth Systems Management

Examination of management approaches for anthropogenic impacts to environmental systems. Evaluates environmental processes and the interconnectedness of the earth system in the context of human disruptions. Grounded in the complex dynamic chemical and energy cycling in biota, water,

air and soil. Presents valuation metrics and tools to synthesize system-based approaches. Utilizes case-study examples for critiquing approaches and as a basis for designing management plans. While focus is on biogeochemical scientific principles, management approaches integrate social, economic and policy considerations. 3 s.h Offered in fall. Prereq: CHEM 112; MATH 161; 300-level environmental course; or permission of instructor.

Environmental Sustainability

Detailed examination of anthropogenic impacts on the environment and the technical-management approaches to address the causes and effects. Subtopics in the broad areas of water, waste and energy will be grounded with case studies of Millersville University and regional activities/programs promoting sustainability. Tools and mechanisms will be presented for developing and evaluating sustainability plans across these core areas and to rank potential mitigation measures to successfully achieve goals. Evaluation tools applied include but are not limited to life-cycle assessment, walkability scoring and LEED certification. Integration of scientific/technological, public policy and economic considerations in achieving environmental sustainability in the subtopic areas will be discussed. 3 s.h. Offered in fall. Prereq: MATH 161; CHEM 111; prior 300-level environmental course or equivalent; or permission of instructor. Prereq or Coreq: Environmental Earth Systems Management (3).

Climate Science Applications

An analysis of social, economic and health activities related to climate and weather at local, regional and global scales. The course will cover results of interdisciplinary research arenas, including natural resource governance; urban systems dynamics; the intersection of weather, climate and health; GIS application and regional climate for adaptation. The course will also review adaptation strategies for climate change through an analysis of the scenarios of projected climate change, developing scientific tools and methods for analyzing current and future vulnerabilities, conducting integrated analyses of climate-change impacts and adaptation, and developing scalable solutions. 3 s.h. Distance-learning format.

Earth Imaging and Data Processing

Focuses on how geoformation technologies, including GIS, remote sensing, GPS and spatial analytical techniques, can be integrated to address various situations in environmental risk assessment, monitoring and planning. Topics include geodetic datum; understanding heights and vertical
datum; geodetic surveying and mapping; data processing in IDL, including map projections, data structures and data visualization; image processing in ENVI, including classification, image transforms and exploring hyperspectral data; extending ENVI with IDL. Distance-learning format-blended. 3
s.h. Offered fall of odd years. Prereq: none.

Advanced Topics in Remote Sensing

This course develops advanced concepts and techniques of remote-sensing principles. Topics include radiative transfer equation derivation; algorithm development for land, ocean and atmospheric variables; satellite and aerial image analysis and interpretation; atmospheric correction in the visible

and infrared wavelengths; validation of satellite and co-located in situ data; and statistical analyses of residuals. Case study examples from land, ocean and atmosphere. Distance-learning format-blended. 3 s.h. Offered in spring of even years. Prereq: Earth Imaging and Data Processing.

Geoinformational Case Studies

Focuses on case studies on how a variety of agencies implement and integrate geospatial data in their operations. Case study–based application of geospatial tools and software in order to solve problems in urbanization, agriculture, natural hazards, forestry, disaster management, etc.; practical problems involving case studies in land-use change and drought, impact on stream quality, flooding, insect damage and wildfires in response to both natural and human-induced climate change. Introduction to Global Mapper software. Distance-learning format-blended. 3 s.h. Offered in fall of even years. Prereq: Advanced Topics in Remote Sensing.

Open Web Mapping

History and importance of web mapping; benefits and challenges to free and open source software (FOSS); identify the pieces of hardware and software architecture used in web mapping; process (clip and project) GIS data using QGIS and GDAL; list the basic functions of a WMS and describe how and

why each would be invoked; large tiled web maps; identify commonly used web mapping APIs (both proprietary and FOSS); implement techniques for data filtering and classification using OpenLayers; recognize the benefits and weaknesses of OpenStreetMap and the process of crowdsourcing.

3 s.h. Distance-learning format-blended. Offered periodically and on demand. Prereq: none.

Field Experience Practicum in Integrated Science

A capstone experience in which knowledge and skills are applied and integrated within a field experience. Those already working in a related field can use their current position as the basis for completing a project applicable to enhance their current skills applying best practices.

3 s.h. Prereq: program coordinator approval.

MATH 503 Probability and Statistics for Teachers

A rigorous one-semester study of probability, distribution theory and the basics of statistical inference. Topics include probability, expectation, discrete and continuous distributions, descriptive statistics and both estimation and hypothesis testing for one- and two-sample problems. Prereq: MATH 311.

MATH 695 Topics in Mathematics

Investigation of one or more mathematical topics of current interest not covered in regular courses. Topics and methods of instruction may vary according to the needs and interests of students and faculty involved. Offered infrequently.

EMGT 633 GIS Applications for Emergency Management

Introduction to Geographic Information Systems (GIS), with emphasis on their use in emergency management. Covers the different types of GIS data available, sources of data, and software tools for querying and spatially analyzing data. Offered in fall of odd years.