GeoInformatics
Master of Science in Integrated Scientific Applications
GeoInformatics (GI)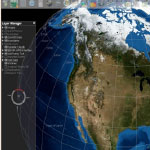 The GI specialization focuses on remote sensing, data structures and data mining, GIS, and image processing, analysis, and interpretation. The curriculum is designed to prepare professionals who want to specialize in integrating earth imaging with georeferencing.
Our GI curriculum is unusual because it is more than an emphasis on GIS applications and develops additional skills beyond a traditional GIS concentration. Instead, it uses GIS, IDL/ENVI, and other software to conduct data retrieval and image processing from satellites, radar, LiDAR, and other active and passive remote sensing devices. 
Career Opportunities
Listed below are just a few of the job areas that are relevant to the GI specialization:
Data analysts
Project managers
Research technicians
Database administrators across public, private, and non-profit sectors
---
Major Sequence and Degree Requirements
36 Credits (face-to-face, online, and hybrid course delivery formats)
Core Courses (24 credit hours)
Business Operations and Analysis (4)
Essentials of Accounting and Finance (4)
Leadership for Scientists and Strategic Management (4)
Statistical Applications for the Integrative Sciences (3)
Environmental Economics and Policy (3) (Competency in Microeconomics Required)
GIS Applications (3)
Field Experience Practicum (3)
Specialization Courses (12 credit hours, at least 4 courses are required)
Specialization course options include but are not limited to:
Advanced GIS with Geoinformational Case Studies (3)
Spatial Data Structures (3)
Earth Imaging and Data Processing (3)
Remote Sensing and Image Interpretation (3) 
GeoInformatics Applications
---
Admission Requirements
Applicants must provide an official transcript from all institutions of higher education attended showing completion of a baccalaureate degree from an accredited institution with a minimum of a 2.75/4.00 cumulative grade point average. Applicants with grade point averages less than 3.00 must also submit an official score from the GRE, GMAT, or MAT test taken within three years of the date of application. An official application form and fee, three professional letters of recommendation, an academic and professional goals statement, and a current resume are also required. Applicants may also be asked to complete a telephone interview with the MSISA program coordinator.
---
Next Steps
For more information on the MSISA program, please contact the program coordinator:
Dr. Rich Clark
Email: Richard.Clark@millersville.edu
Phone: 717-871-7434
You may also contact the MSISA GeoInformatics faculty member:
Dr. Ajoy Kumar
Email: Ajoy.Kumar@millersville.edu
Phone: 717-871-2432