Weather Intelligence And Risk Management
Master of Science in Integrated Scientific Applications
Weather Intelligence and Risk Management (WIRM)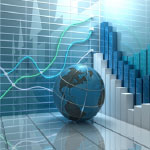 The WIRM specialization is a response to the growth in the private sector of the weather and climate enterprise and the national trends in workforce needs that demand highly skilled scientists and technically-astute professionals with good business sense, excellent communication skills, and the ability to work in a team-oriented environment. With a third of the Gross Domestic Product (GDP) coming from weather sensitive businesses, as well as a greater emphasis on global markets, it is imperative that professionals be able to understand, articulate, and communicate the role of science in the boardroom. This track prepares individuals for careers in sectors where weather and climate are important factors in the decision tree.
Career Opportunities
Listed below are just a few of the job areas that are relevant to the WIRM specialization:
Energy Trader
Weather Risk Analyst
Weather Related Commodity Trader
Weather Derivatives Valuation
Weather Insurance Management
---
Admission Requirements
Applicants must provide an official transcript from all institutions of higher education attended showing completion of a baccalaureate degree from an accredited institution with a minimum of a 2.75/4.00 cumulative grade point average. Applicants with grade point averages less than 3.00 must also submit an official score from the GRE, GMAT, or MAT test taken within three years of the date of application. An official application form and fee, three professional letters of recommendation, an academic and professional goals statement, and a current resume are also required. Applicants may also be asked to complete a telephone interview with the MSISA program coordinator.
---
The MSISA Program is currently going through major revisions. 
For questions, please contact Dr. Sepi Yalda (sepi.yalda@millersville.edu)