Tell School of Music
LEARN MORE ABOUT OUR DEGREES
Would you like to know more about what is possible for YOUR future at Millersville University? We offer three unique degree programs in music education, music performance, and music industry studies as well as certificate programs, and you can even have the option of being a dual major with any of our programs.
Our music program nurtures the musician in you and provides a place where you can play in many ensembles, be a part of student organizations, yet learn skills that help you succeed in the workforce. We think "Future Forward" as we craft innovative programs that give our graduates a competitive edge in the world of the music industry and field of music education.
Visit our Degree Overview Page to learn more!
---
Spring 2021 Audition Information
Are you interested in being a Music Major or Minor? We are now auditioning music students for the 2021/22 school year!
Spring auditions will be conducted online unless conditions on campus are permitted, but ALL spring audition days will have an option to be completed remotely. Students will be informed by our Admission staff prior to the audition whether it will be in-person or remote. 
Helpful links:
If you have any questions about anything along the way, don't hesitate to contact our Music Admit team or Dr. Christy Banks.
---
talk with us Tuesdays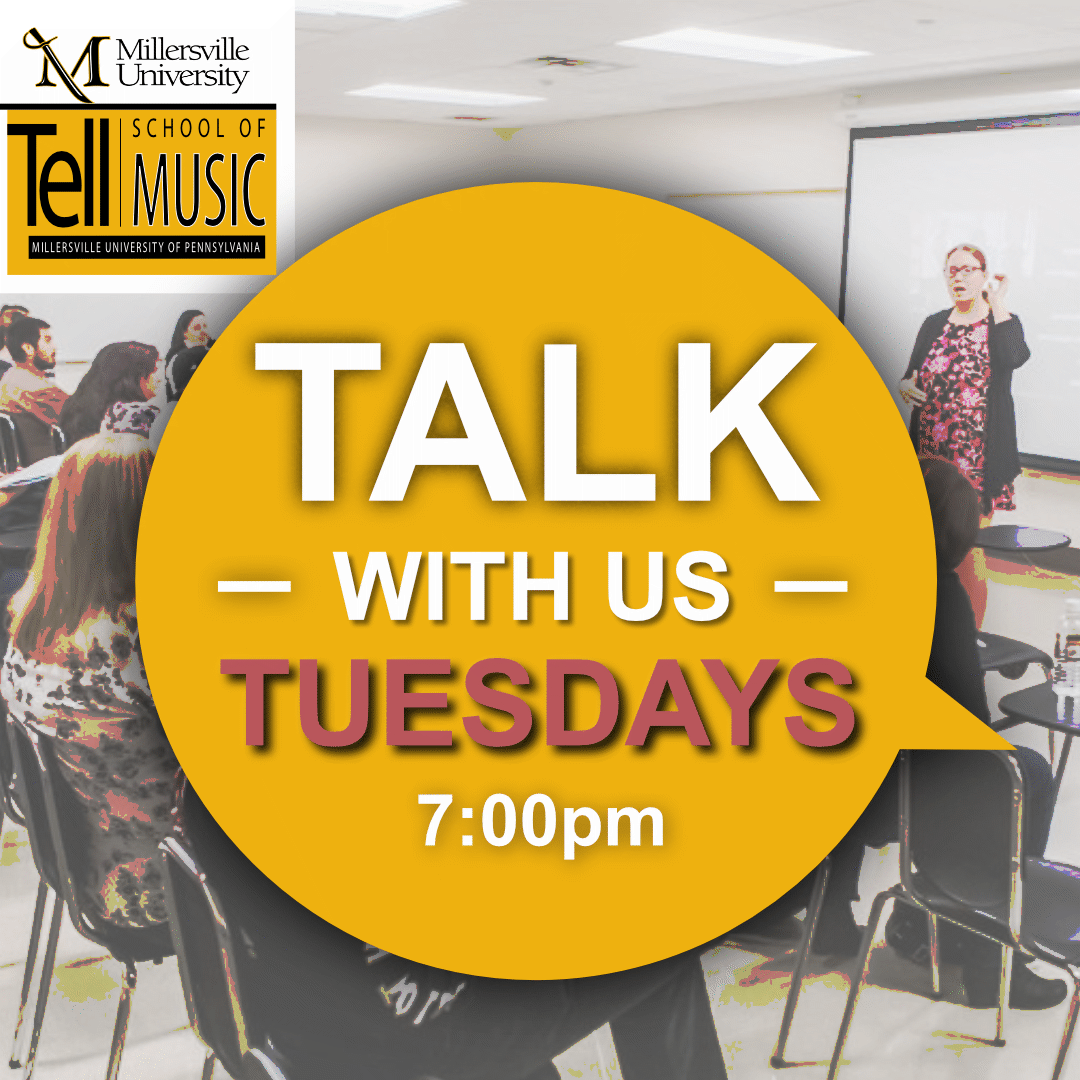 This semester the Tell School continues our innovations by instituting an online discussion program called "Talk with us Tuesdays."
Each Tuesday at 7:00 pm we will host a Zoom session where current faculty and students discuss different aspects of what the Tell School is all about.
Each week will feature a different topic and new guests.
The link will be the same each week - please sign up here to RSVP and our music admit team will send you the link if you don't have it already.
| | |
| --- | --- |
| Date | Topics |
| 2/16 | Keyboard Studies & International Opportunities |
| 2/23 |  I Got Rhythm - Guitar, Bass, & Percussion Studies |
| 3/2 | "Modern Band" in Music Education |
| 3/9 | Choirs and Vocal Studies at Tell School |
| 3/16 | MBT: Why is a Degree in the Music Industry Important? |
| 3/23 | Reedy or Not! Woodwind & Brass Studies |
| 3/30 | String Studies at MU |
| 4/6 | Meet MU Students – "Making a Difference in Music" |
| 4/13 | Marching and Concert Bands at MU |
| 4/20 | All That Jazz @ MU |
| 4/27 | Internship Opportunities |
| 5/4 | New Students! "I'm coming to MU in the fall! What should I do over the summer to prepare?" |
---
NEWS AND ANNOUNCEMENTS
Marching band "in person" Camp Announced for Summer 2021!
The 2021 Marauder Marching Band Intent Form is available for all returning and prospective members. We have been approved for an in-person marching band camp from August 15-21!
Interested students should fill out the form as soon as possible. Look for more schedule information soon on the Marauder Marching Band Page - and Go 'Ville!
Please let us know your interested!
Submit this simple form to get all the announcements:
exciting new certificate programs available at the tell school of music
This Spring the Tell School of Music was approved to be the first and only universities in the region to offer undergraduate certificates in Kodály and Technology in Music Education. These programs are designed for our Music Education majors to add 21st century marketable credentials to their degree programs. Technology Certificate students will study in our world-class Music Industry facilities with our renowned Industry faculty. Kodály Certificate students will study with our internationally-renowned experts in the Kodály concept of Music Education.
For more information on our Certificate programs, including contact information, click on this link to our Degree and Certificate Programs Page.