Computer-Aided Drafting & Design (AETM)
Program Goals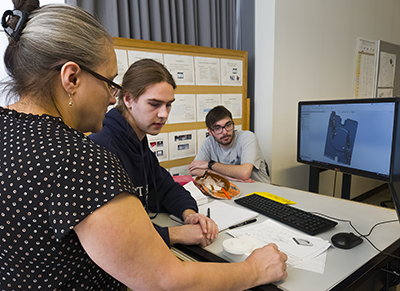 Millersville University offers a 4-year Bachelor of Science in Computer-Aided Drafting & Design (AETM-CADD) and a 2-year Associate of Technology in Computer-Aided Drafting (AET-CAD). Computer-aided drafting and design encompasses far more than the ability to use software. Graduates demonstrate a high level of problem-solving ability in the practical application of theoretical principles for both mechanical and architectural design.
Interested in Computer-Aided Drafting & Design?  Request More Information
See what one of our AETM degrees can do for you.
Please view the video to learn more about the Applied Engineering and Technology Management degrees at Millersville...
BACHELOR OF SCIENCE (B.S.) 4-YEAR DEGREE
APPLIED ENGINEERING AND TECHNOLOGY MANAGEMENT
Computer-Aided Drafting & Design CONCENTRATION
The Computer-Aided Drafting and Design concentration is designed to provide students with theoretical and practical skill in drafting and design. This option provides experiences in drafting and design in addition to advanced work in the areas of technical freehand drawing, design methodology, design for manufacture, technical illustration, and rendering using computer-aided drafting systems. All courses feature practical laboratory experiences allowing students to work with equipment, materials, and processes that will lead to successful careers in the drafting/design field.
Click here to view a typical 4-year program of study. This is provided for reference only. You will work closely with your advisor to determine the best way for you to complete your degree.
Bachelor of Science AETM Computer-Aided Drafting & Design catalog Listing
---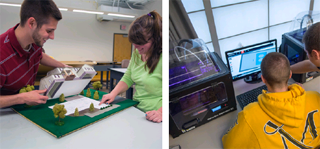 ASSOCIATE OF TECHNOLOGY (A.T.) 2-YEAR DEGREE
APPLIED ENGINEERING AND TECHNOLOGY 
Computer-Aided Drafting & Design Concentration
The Computer-Aided Drafting concentration within this program provides students with the same basic technical coursework as the AETM program, but without courses in management.
Associate of Technology Computer-Aided Drafting & Design Catalog Listing
---
Minor in Computer-Aided Drafting and Design 
Computer-Aided Drafting minor students complete 18 credits of technical courses. One of these is a foundational course in drafting and design and then students choose five technical courses from topics like production materials and processes, computer-aided engineering drawing, product design, architectural drawing, and several others.
---
Top 3 reasons why you should consider a degree in Applied Engineering & Technology Management, Computer-Aided Drafting & Design:
Enjoy a blend of theoretical, technical, and hands-on education.
Become highly competent in multiple industry-standard CADD software applications.
Create excellent employment opportunities in various engineering industries.
---
MAKE YOURSELF MORE EMPLOYABLE, CONSIDER AN INTERNSHIP:
Students are encouraged to seek an industrial internship position to gain practical experience with industrial production procedures. CADD internships typically focus on industrial design, CADD management, mechanical design, industrial support, technical illustration, or residential design. Faculty work to ensure the student receives the best possible learning value.
---
LABORATORY FACILITIES FOR AETM COMPUTER-aided drafting & Design MAJORS:
There are four separate laboratory facilities dedicated to the CADD program. Specific facilities include:
Drafting Communications 
Advanced CADD and 3D Printing 
Innovation
General CADD