MMIWGT2S Red Dress Project
Summary
With the support of the American Association of University Women (AAUW) and many more university organizations, English Graduate Student Jordan Traut brought to life a creative project honoring Missing and Murdered Indigenous Women Girls Trans and 2 Spirits (MMIWGT2S) on campus. The Red Dress display, featuring original Native art by Jamie Ray John (Anishinaabe & Korean 2 Spirit) on a handmade ceremonial dress by Carolyn Rittenhouse (Lakota Sioux), will permanently reside in the College of Arts Humanities and Social Sciences building, McComsey Hall. The final project and dress are being dedicated to the university - a symbol of honor and commitment - on the MMWG National Day of Awareness, May 5th, 2022. Many thanks to those supporting this student-led, scholar-activist project and the MMIWGT2S movement!
Continue reading to learn more about the project's inspiration and development in Spring 2022. Located in the drop-down accordions are resources and documents from the project.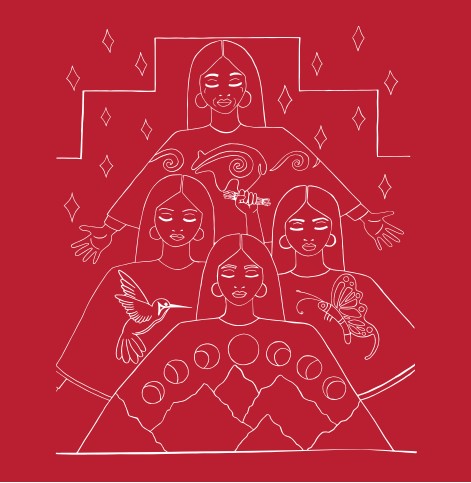 "What many don't understand is it's never just our women who go missing, it's more than our mothers, sisters, aunties, grandmas, and cousins; it's our water protectors, land defenders, powwow dancers, language speakers, and ceremony holders that our communities lose when our people disappear. "

- Jamie Ray John (Anishinaabe & Korean) | Featured Artist
MMIW, MMIWGT2S, and Red Dresses
The Red Dress project is a national arts-based movement to raise awareness for and honor Missing and Murdered Indigenous Women (MMIW) and Missing and Murdered Indigenous Women Girls Trans and 2 Spirits (MMIWGT2S). The red dress—a powerful symbol of these grassroots movements and recognized across the North American continent—will be the main component of our display.
Millersville Exhibit Mission
MMIW and MMIWGT2S are sounding the alarm on extreme violence against Native[1]  women, girls, transgender, and 2 Spirit people and calling attention to the national silence surrounding their disappearances and murders. Millersville's project aims align with the movement to increase visibility and awareness in the United States, Canada, and Mexico. This display calls on the campus community to be allies to our First Americans, giving educators and students access to information and resources. For Native students on campus and in the community, this Red Dress display will serve as a commitment to always honor and respect Indigenous voices in the curriculum and on campus. It will be a visual representation of their valued presence in our institution and community.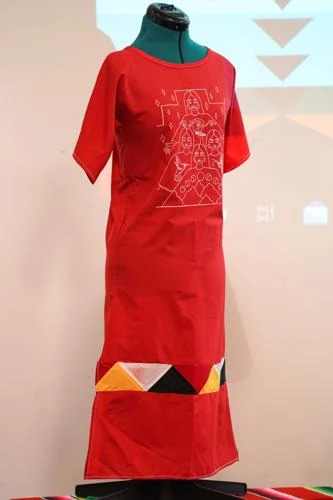 Photo Credit: LNP 2022
[1] Identifying any indigenous person or population using English-language terminology (vs. using Native languages) is problematic. There are arguments made for and against each identifier. Therefore, we will use a variety: Native, Native American, American Indian, Indigenous, First American. It is always best to identify a person as an individual, using their name and/or tribal/NHO affiliations/memberships. Not sure? Just ask.
"This project calls on us all to apply what we are teaching and learning to better our communities and the world with our individual talents and work. It was conceived with great compassion. All those involved hope the Red Dress inspires Millersville University students to take a moment each time they pass it in McComsey, reflecting on the experiences of our First American people. We hope the design portion of the project empowers the next generation of Native artists to express their voices, taking comfort in the idea that their work has a far-reaching impact. "

- Jordan Traut, Project Creator | M.A. English '20
Project Inspiration and inception
After a museum research trip to Vancouver Island in Canada, English M.A. student, Jordan Traut, was inspired by the visibility and awareness surrounding MMIW and hoped to honor MMIW and MMIWGT2S on campus upon her return. Dr. Kaitlin Mondello (Advisor) and Amy Denney (President) of the American Association of University Women (AAUW) offered their support, developing official funding proposals and establishing project outcomes early in the Spring 2022 semester. The MMIWGT2S Red Dress Project secured over $6,000.00 in support from multiple organizations at Millersville University. 
This is an critical space for Native Voices to be present and leading the discussion. Jordan and AAUW convened a panel of students, staff, faculty, and guest judges and advertised a national call for original, Indigenous youth art submissions. The selected artwork was screen printed onto Panelist Carolyn Rittenhouse (Lakota Sioux)'s handmade ceremonial dress in the exhibit. 
"We are so proud with what has been accomplished with this MMIWG and MMIWGT2S project and event. It is AAUW's mission to do anything to bring awareness and support for woman of all walks of life. We feel this event showcases what a difference a few people making an effort can do for the community as well as for women. "

- Amy Denney | AAUW President 2022