Out of State Students
Thinking About the Right University for You?
Millersville University of Pennsylvania offers an affordable U.S. educational experience second to none—one where you can seize all of the opportunities that life presents. The Millersville student body currently represents 12 states and 58 countries.
---
From academics and access to safety and sustainability, Millersville University consistently ranks among the top universities in the North. Learn more. 
---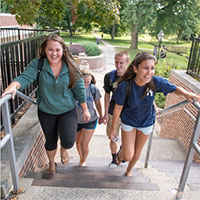 We are often told by students that visiting campus made a real difference in their college choice.
---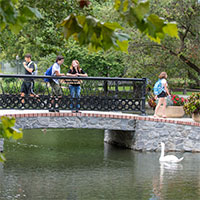 Big city access, charming Lancaster County campus.
Millersville University's beautiful campus, in the heart of historic Lancaster County, features more than 250 acres of gently rolling landscape and includes a pond with its own resident swans, known as Miller and S'ville. Millersville, located just three miles from the city of Lancaster, puts you within reach of some of the United States' top metropolitan centers. Want to visit the White House in Washington, D.C.? Hop on an Amtrak train just minutes from Millersville and be there in just 2-1/2 hours. A day trip to New York City is just as convenient. Plus, the sites and wonders of Baltimore, Maryland, and Philadelphia await!
---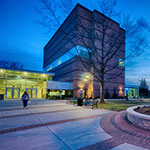 Safe and Comfortable Campus
Millersville University has been recognized as one of the safest colleges in Pennsylvania. The crime rate at Millersville University is very low, but the University is very proactive when it comes to campus security. University police provide coverage 24/7; people can call for assistance from any one of the 29 emergency call boxes placed around campus. All residence halls are kept locked, and only students residing in that particular hall can gain access with their electronic swipe cards.
---
Campus Activities
The Office of Campus Life is the University's go-to place for students wanting to get involved on campus, serve their community and develop their leadership skills. Students who are active participants in the life of the college are more likely to persist and be successful in college. Getting involved provides students the opportunity to build connections with fellow students, faculty and staff, and to develop lifelong friends and mentors. The Center provides numerous opportunities for students to "Get Involved," no matter what their interests are.
---
Transportation That's Easy and Free
Millersville University students may access public bus services to local galleries, theaters, historic sites and shopping opportunities at no charge by showing their student I.D. card during the fall and spring academic year. Learn more. 
---