About the Fiat Lux Society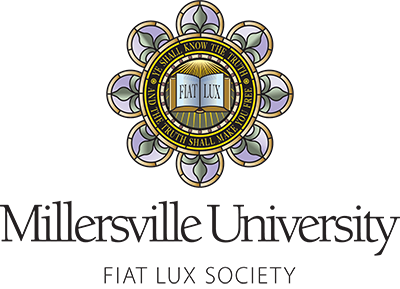 Millersville University is proud to announce the introduction of the Fiat Lux Society as a giving society that honors the extraordinary contributions of donors of transformational gifts. The recently formed fellowship of distinguished donors includes those whose generous gifts and pledges of $1 million or more to Millersville University create an enduring legacy that will benefit students for years to come. The Latin phrase "Fiat Lux" is translated as "let there be light," and the Fiat Lux Society name is inspired by a historic stained glass window featuring the words "Fiat Lux," located in the Biemesderfer Executive Center on the campus of Millersville University.
With the exceptional generosity and leadership of the Fiat Lux Society benefactors, their philanthropic commitment demonstrates the vision and dedication that will nurture the success of Millersville University for generations. The transformational gifts from Fiat Lux Society members provide incredible opportunities for thousands of Millersville University students to celebrate outstanding accomplishments and experience excellence in the future.
August 12, 2020
MU President Daniel Wubah and Dr. Judith Wubah hosted the inaugural induction of the Fiat Lux Society.