ONE DAY GIVE 2021
Prepare to give to what you love!
Get ready for February!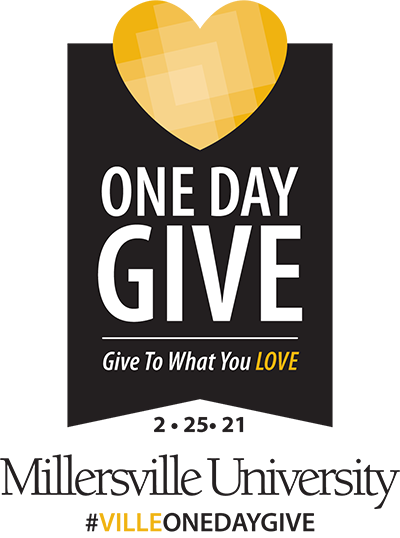 This year's One Day Give is coming. In this challenging year, your support means more than ever before. Please make a plan to give to what you love!
YOUR Generosity Helped Us Break Records in Support of Student Success for 2020

We truly are overwhelmed with the outpouring of support. From across the country and around the world, the 'Ville community came together by sharing social media posts, personal videos and stories of why we love the University.

We received 1,331 gifts for a total of $291,867 during Millersville's One Day Give — more than doubling our previous donor count. Most important, because of the kind contributions from alumni, students, faculty, staff, parents and friends, Millersville University students will receive valuable funds to support their journey of success!

We share our sincere appreciation for your gifts and involvement in making One Day Give a remarkable event and a phenomenal day of support for our students.

Congratulations to all of our athletic teams for an amazing showing. Final team alumni giving winners will be announced Friday, Feb 28 by noon.

THANK YOU FOR THE SUCCESS OF ONE DAY GIVE 2019!

On behalf of the faculty, staff, and especially our students, THANK YOU for making the 2019 'Ville One Day Give a great success!

Generous donors made 490 gifts during the event on Valentine's Day, February 14, 2019, raising more than $130,000 to benefit Millersville University students during the sixth annual One Day Give event!

We owe a great deal of gratitude to the many individuals, organizations and businesses that provided matching dollars and special incentives for the day. For more information on ways that you can continue to support student success, please visit imagine.millersville.edu. 

Thank you!