Named Annual Award Information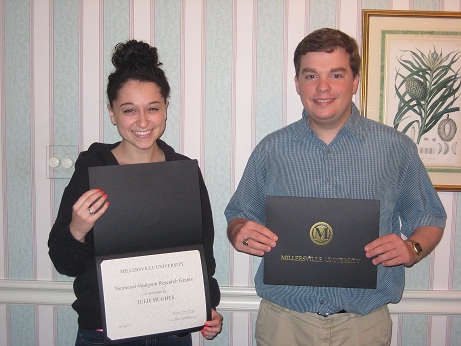 Who?  An individual, a group, an organization, or a business may name an annual award.  Anyone can make a difference in the life of a student by establishing an annual award. 
What? A donor may fund an annual award with a minimum gift of $500/year with a 4-year signed pledge. 
Where? Donors, in consultation with the Development Office staff, set annual award criteria.  Criteria might include a specific major, class year, minimum GPA, participation in a particular sport or activity, or any other considerations for the selection.  Please see Annual Award Criteria Checklist for more details.
When?  Annual award gifts must be received no later than December 31st to be awarded the following academic year.  A more detailed timeline for the award cycle is included below:
December 31:  Gift sent to the University.  Donor receives acknowledgement letter and gift receipt for tax purposes.
January/February:  Appropriate department or division receives notification of funding and criteria to select a student recipient
April:  Student notified. 
July/August:  Donor receives student profile with photo and personal thank you from award recipient.
October:  Pledge reminder letters sent out to past annual award donors.
December: Donor invited to attend the Celebrate Scholars luncheon to meet the student scholarship recipient.
Why? Annual awards help students make the most of their education opportunities here at Millersville University.  In times like these, higher education is more important than ever.  But desire for education that exceeds financial resources is a reality for many of our students.  By funding an annual award, you make a real difference in the life of a Millersville student.  The donor may choose to name the award in honor or memory of someone or to recognize a business or organization.   
There are currently over 50 annual awards given out to Millersville students.  Please join our family of annual award donors today.  Click here to view and print the Annual Award Form to start the process.
If you would like more information or are ready to set up an annual award today, please contact Alice McMurry, Associate Vice President for Advancement in the Development Office at alice.mcmurry@millersville.edu or 717-871-7520 or toll free at 877-872-3820.