One Day Give Celebration Stations
VISIT THE CELEBRATION STATIONS ON CAMPUS!

Join the Celebration of the 10th Annual One Day Give on the Millersville University Campus! 

Thursday, February 23, 2023 | Five locations across campus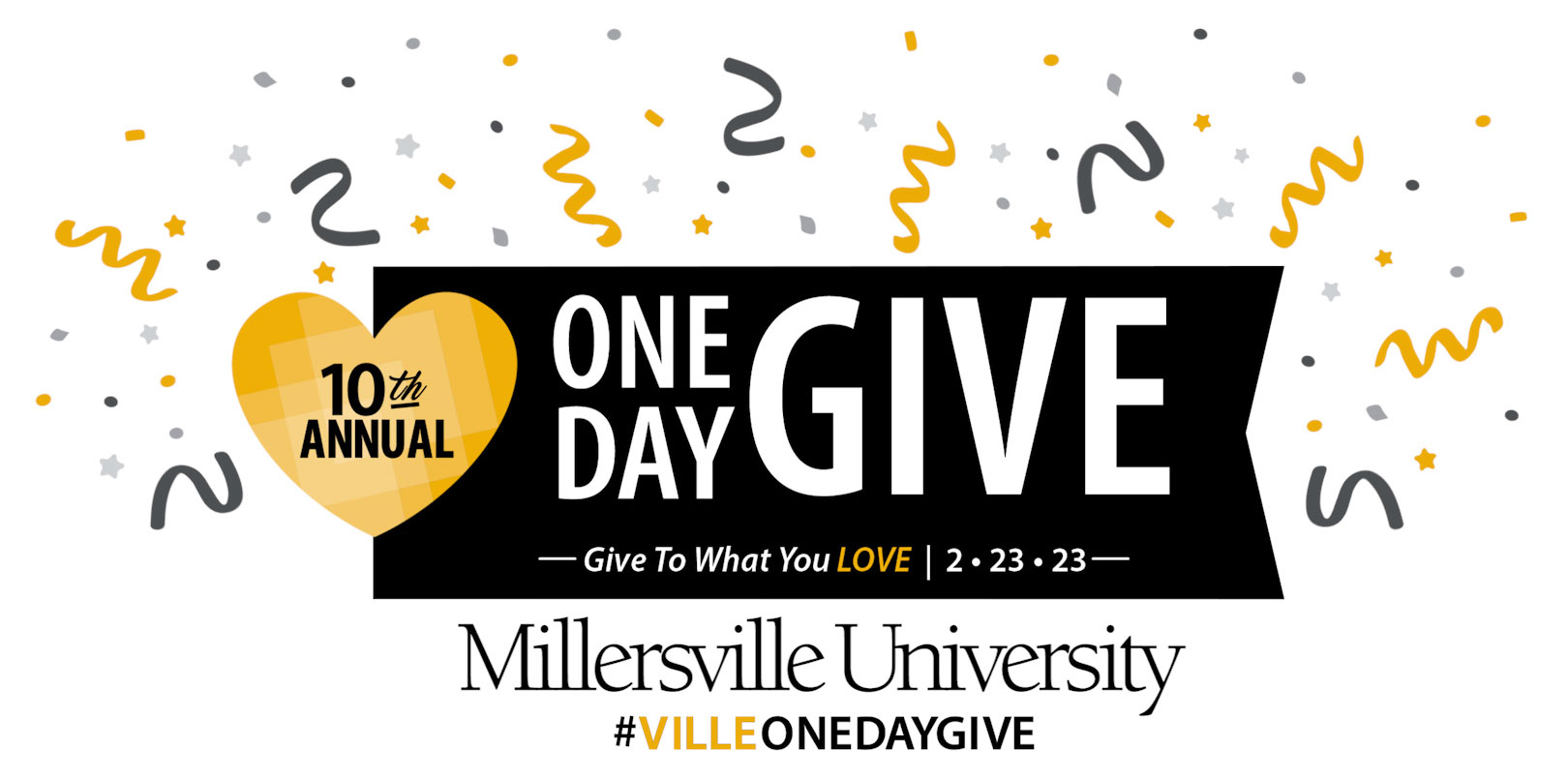 ONE DAY GIVE CELEBRATION STATIONS
Join us on Thursday, February 23rd as we celebrate One Day Give throughout the Millersville University campus! 

You are invited to celebrate the One Day Give event by visiting any of the five Celebration Stations on campus to make your gift, and participate in a fun-filled day of excitement with the Millersville University campus community!  

Visitors to the Celebration Stations can enjoy receiving snacks, swag items, and the opportunity to write a thank you note to donors or record a thank you video to share with Millersville University One Day Give donors. 

The Celebration Stations will be located at five convenient locations across campus, and we welcome you to stop by and participate in the celebration with us on the day of One Day Give! 

Thank you so much for "giving to what you love" for the 10th Annual One Day Give celebration! 

To learn more about One Day Give and to make a gift, please visit millersville.edu/onedaygive or click here. 


CAMPUS LOCATIONS & HOURS:  One Day Give CELEBRATION STATIONS


Francine G. McNairy Library and Learning Forum
Location:   Main Floor near Starbucks
Hours:  9:00 a.m. - 11:00 a.m. | Thursday, February 23rd



Student Memorial Center (SMC) 
Location:   Atrium
Hours:  10:00 a.m. - 2:00 p.m. | Thursday, February 23rd



Caputo Science Hall / Roddy Science Hall 
Location:   Lobby
Hours:  9:00 a.m. - 1:00 p.m. | Thursday, February 23rd



Stayer Hall 
Location:   Lobby
Hours:  9:00 a.m. - 12:30 p.m. | Thursday, February 23rd



McComsey Hall 
Location:   Central Lobby
Hours:  12:30 p.m. - 2:45 p.m. | Thursday, February 23rd