Barth K. Yeboah, DSW
Professor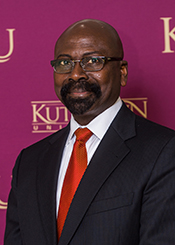 Contact Information
Office: Old Main 332, Kutztown University
Phone: 610-683-4292
Fax: 610-683-4383
University of Pennsylvania, DSW; University of Delhi, India, MSW; Jamia Millia Islamia, India, BSW
Dr. Yeboah is Professor of Social Work at Kutztown University of Pennsylvania. He holds a doctoral degree in social work from the University of Pennsylvania. He has extensive practice and teaching experience in social work. His practice and research background include runaway and homeless youth, international migration, immigrant families, domestic violence, social welfare, poverty and development and social work practice in Africa. He has been a member of National Association of Social Workers since 1987.
Dr. Yeboah joined KU's Department of Social Work in 1991. During his tenure, he has served as the team leader for the Social Work Learning Community working with other faculty to assist first-year students in achieving academic success, maturity, and a sense of belonging in this transitory period from high school to college. He developed the department mentoring program and serves as mentor to new faculty. He currently serves on University Senate.
From his international perspective, Dr. Yeboah's question relates to how traditional systems inform contemporary social work practice. He has studied the matriarchal system of the Khasis, an ethnic group in Northeastern India, the helping systems of the Akans, an ethnic group in Ghana, and intergenerational issues of new immigrants in the Delaware Valley. Dr. Yeboah has published and given several conference presentations on international social work especially on issues affecting African immigrants and traditional and contemporary social work practice in Africa.