John G. Vafeas, DSW, LSW
Department Chair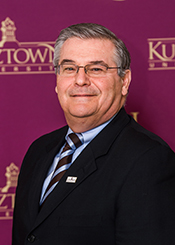 Contact Information
Office: Old Main 324, Kutztown University
Phone: 610-683-4239
Fax: 610-683-4383
Dr. Vafeas, is chair of the Department of Social Work, professor and director of the Master of Social Work (MSW) program at Kutztown University of Pennsylvania. Dr. Vafeas was born in Greece and spent his childhood on the island of Chios. He received his undergraduate diploma in social work from the Center for Higher Technical and Professional Education of Heraklion, Crete and a bachelor's degree in sociology from Winthrop College in South Carolina.
After graduating with master degree in social work, Dr. Vafeas accepted employment at the University of Pennsylvania as the chief social worker of the Center for Information Resources, a training facility for physically challenged individuals in computer related occupations. While at Penn, Dr. Vafeas had faculty appointments to the school of medicine teaching resident physicians social and behavioral aspects of disability and the graduate school of social work where he taught computers and information systems and served as a field instructor to graduate students in social work.
Dr. Vafeas received appointment at Kutztown University at the rank of assistant professor in January 1990, and achieved full professorship in 2002. In 2000, he spearheaded efforts to develop the MSW program through initial needs assessment, study of institutional fitness, and the eventual Pennsylvania State System of Higher Education (PASSHE) approval.  In 2002 he was appointed as the MSW program director a position he has been holding continuously to this day. Along with Dr. Janice Gasker he has developed its explicit and implicit curricula. In 2006 he was elected as the first chair of the Department of Social Work, a post he has subsequently been re-elected to for two additional terms.
His research focuses include computers in human services; methods of community based service delivery to the elderly; attitudes of students toward the poverty and the poor; poverty associated social problems; using goal attainment scaling methodology in social work practice and program evaluation; generalist social work curriculum development; social work theory development; graduate social work training--program and curricular design; integration of Greek immigrants into American society. He is a trained program site visitor for the Council on Social Work Education Accreditation Committee. He is also a member of the National Association of Social Workers, the Council on Social Work Education, and the Baccalaureate Program Directors.
Recent Scholarship, Publication and Presentations:
Vafeas, J.  National Standards for the Practice of Case-Management.   Designed a research protocol for the development of standards of practice for Case-Managers.   A research and development project on behalf of the National Association of Case Management (NACM).  (August 2014—on going).   Prospective external funding
Vafeas, J. & Frei, J. (2014, October 16-17) Developing Genograms Using Existing Software:  Assessment and Data Extraction Techniques.  A workshop presentation at the PA NASW Annual Conference, Valley Forge PA.
Vafeas, J (2014, October 21-23) Locating Social Indicators for Program Initiation and Sustainability. A workshop Presentation at the National Association of Case Management Annual Meeting, Philadelphia, PA
Vafeas, J. & Yeboah, B. (2014, November 7-9)  Infusing International Social Work in the Implicit Social Work Curriculum.  A workshop presentation at the PA NASW Annual Conference, Monroeville, PA
Vafeas, J. (2014, June 10-15) Truancy Remediation Best Practices.  A Paper presented at the International Conference of Interdisciplinary Social Sciences, University of British Columbia, Vancouver, Canada.
Vafeas, J. (2013, October 2) Outcome measurement technologies for micro and macro levels of practice. A paper presented at the National Association of Case Management (NACM) Annual Conference, Atlantic City, NJ.
Vafeas, J. (2012, March 30-31)  Bridging the Disconnect between Field Instruction and  the CSWE Core Competencies.  A workshop Presented at the Pennsylvania Association of Undergraduate Social Work Education (PAUSWE) Annual Meeting, State College, PA.
Vafeas, J. and Perlman, S. (2011, October 27-30).  Macro-level Factors Associated with County Child Maltreatment Rates.  Paper presented at the Annual Program Meeting of the Council on Social Work Education, Atlanta, GA.
Gasker, J., & Vafeas, J.  (2010). The family-in-environment:  A new perspective on generalist social work practice. 
The International Journal of Interdisciplinary Social Sciences, 5
(1), 291-304.