International Connections - Living-Learning Community
Overview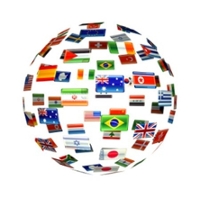 We've created a community for globally-minded students, just like you. What better way to enrich yourself in cultural learning than to live and learn side by side with people from different backgrounds? If you're interested in meeting and living among people of diverse cultures, or want to pursue an international career, this is the place for you. Together, we'll learn about cultures of all types, we'll travel to cultural melting pots, like New York City, our nation's capital and intentionally celebrate holidays and festivals from all around the world.
So, if you want to develop and strengthen your global skills, intercultural competence, learn how to empower action and positive social change, expand your worldview, and so much more, apply today!
*Please note: while participation is open to students of all majors, preference is given to students interested in studying abroad or majoring in international studies. 
Applications will be accepted on a rolling basis until the community is filled.
For questions related to the LLC program, activities and related courses please contact the OFFICE OF INTERNATIONAL PROGRAMS AND SERVICES at 717-871-7506 or International@millersville.edu
For questions about housing and housing assignments contact University Housing and Conference Services at 717-871-4200 or housing@millersville.edu.
International Living-Learning Community Application