8th Annual Global Well-Being And Social Change Conference
Global citizenship: acknowledging interconnectedness and cultivating social justice
April 14-16, 2021 at Millersville University (virtually)
Millersville University School of Social Work's Learning Institute is dedicated to investigating global social issues.  In collaboration with various Departments and Offices at Millersville University, The Learning Institute provides a platform from which experts from various disciplines share their knowledge and offer training for agents of social change.  Each year, The Learning Institute hosts events that center on examining social, economic, and environmental injustices and human rights violations with intentional dialogue on ways to foster positive social change.
2014 - Global Youth: Understanding Challenges, Identifying Solutions, Offering Hope
2015 - Exploitation of Women and Children: Global Perspectives
2016 - Global Poverty: Human Needs, Economic Justice, and Social Change
2017 - Children's Rights: Building Resilience, Protecting from Harm, and Foster Well-Being Among Our World's Children
2018 - Wellness in Our Global Community: Clarifying Definitions, Providing Opportunities, Protecting Rights
2019 - Social Justice: Valuing Difference, Pursuing Equity, and Finding Space for Solidarity
2020 - Re-Envisioning Our World: Seeing What Works, Broadening Our View, Seeking Innovative Alternatives
Join us April 14-16th, 2021 for our 8th Annual Global Well-Being & Social Change (virtual) Conference!
Conference Theme
Global Citizenship: Acknowledging Interconnectedness and Cultivating Social Justice
In the midst of a global pandemic, systemic racial injustice and global environmental crisis related to climate change, our connection to other groups and cultures is relevant now more than ever. The Learning Institute's 8th Annual Global Well-Being conference will focus on using the social justice advocacy theoretical approach to developing global citizenry to address navigating our interconnectedness. A global citizen is aware of the wider world, has a sense of their own role as a world citizen, respects and values diversity, and engages in intergroup dialogue and cultural humility. With the interconnected and interdependent nature of our world, the global is not 'out there'; it is part of our everyday lives, as we are linked to others in our own country and on every continent. As individuals and as leaders in larger organization how can we develop global citizenry to cultivate social justice? 
Our conference features research that identifies barriers to social justice and human rights, as well as strategies (policies, programs, and practices) to promote social justice and human rights across diverse populations.  Human rights are complex and multifaceted; strategies to enhance it require equally complex and interdisciplinary responses.  Scholars, practitioners, students, and agents of social change from all disciplines will be gathering for the conference to share their expertise.
Format: mixed virtual event
1. Live zoom sessions; interactive and held at a scheduled time between April 14-16
2. Pre-recorded video sessions; will be available during the conference and for one week afterwards.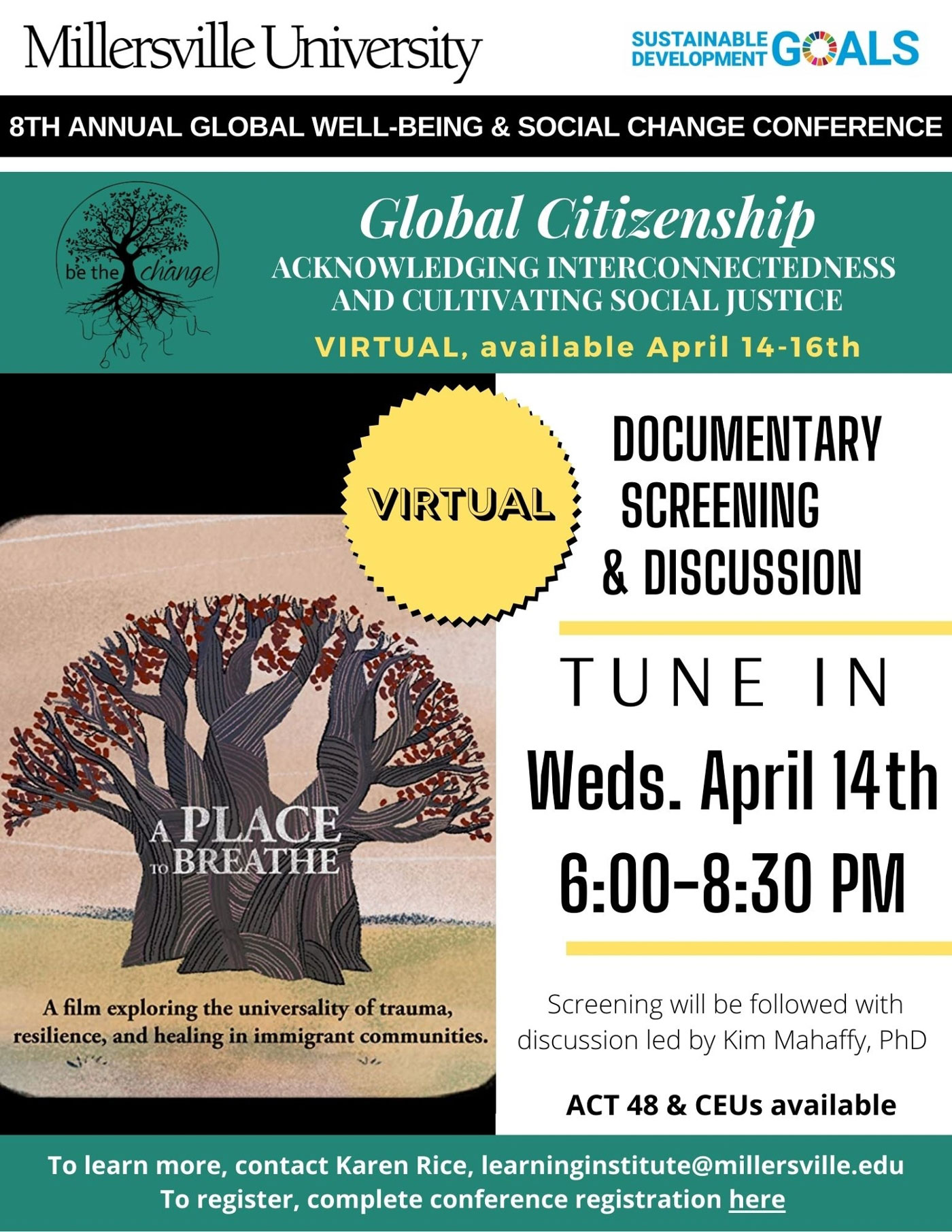 3. Virtual documentary screening and discussion of A Place to Breathe - a film exploring the universality of trauma, resilience, and healing in immigrant communities, Wednesday, April 14th, from 6:00-8:30pm. Discussion with Kim Mahaffy, PhD, will directly follow the screening. To register, complete conference registration. To learn more, contact Karen Rice at learninginstitute@millersville.edu.
THE LEARNING INSTITUTE | SPONSORED BY MILLERSVILLE UNIVERSITY SCHOOL OF SOCIAL WORK. Click Here For Additional Conference Information
 Registration
https://www.eventbrite.com/e/8th-annual-global-well-being-and-social-change-conference-tickets-139692121897
Cost
-General Admission: FREE, $10 suggested donation
-Student Admission: FREE
-Continuing Education Credits (ACT 48, Social Workers, Marriage and Family Therapists and Professional Counselors): $50 for max of 20 credit hours
Contact: Dr. Karen Rice at learninginstitute@millersville.edu for more info
Contact Us

The Learning Institute:
Global Well-Being and Social Change
717-871-2103

Karen Rice, Department Chair of Social Work at Millersville University
(717) 871-5297